Did somebody say Mad Men? Just who doesn't love the famous hit tv show Mad Men?! I can now finally catch up with all the seasons on Netflix and I'm loving every minute of it!! But if the Mad Men franchise put their name on everything I'm sure I'll buy it up, so when I was flipping through my mom's Oprah magazine and noticed an ad for Banana Republic's Mad Men collection I was soo thrilled!
Finally!! This is what the world needs less drabby modern and more classic chic!! Don't get me wrong I like a fair share of modern things and clothing and I love to see what's new with the latest designers, but when the fashion world brings back retro, oh you know I'm celebrating!! I personally don't shop at BR, but they do have great well made clothes for a decent price.. I just can't afford it. But believe me if I had some cash I'd definitely go down to the Banana Republic and buy some of this cute stuff up! Oh and it's not just for the ladies, boys grab that skinny tie and slim suit and look fabulous!
I thank the tv gods for a show like Mad Men because everyday it makes the world of today seem like 1960!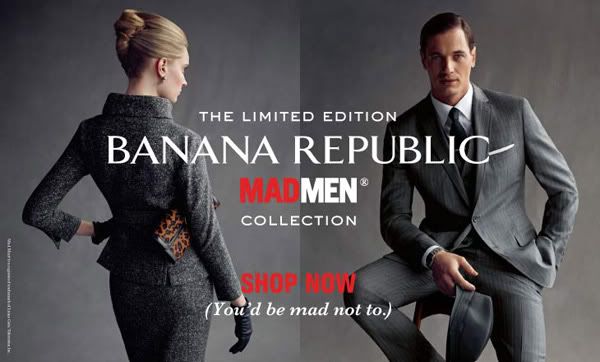 I'm loving the advertisements!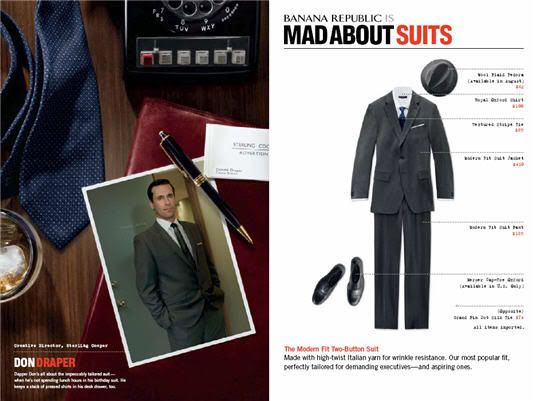 They've broken it down just for you!
I think I might like the mens clothing more than the womens?
Two favorite looks from the collection
Be sure to check out the website: