Sorry for the delay. Last month I blogged how I was planning on seeing Morrissey at the Staples Center March 1st and at Hollywood High School March 2nd. Well here's the post sharing my experience with you! Both shows were wonderful and that intimate Hollywood High show was nothing but amazing I even cried!! It was a weekend filled with friends and familiar faces, tons of fun, singing along and dancing to those heartfelt songs! I'm glad I had the chance to see Moz before he became ill and had to cancel his tour. It truly was a performance to remember. Oh and it was great finally bumping into Lidi of the blog
"The Pocket Size Housewife"
she recognized me! She has a great blog about all her loves and adventures with her Husband being the cutest little housewife! It was great meeting you! We should've took a picture, but there's always next time and thanks for saying hello!
The crowd at the staples center show!
Moz hit's the stage!
I didn't take many pics that night as you can see I wasn't very close to the stage haha But still it was a fantastic show! Loved that he played a lot of my favorites!
One of my favorite parts of that night was during the song "Speedway" Morrissey spoke those all too familiar and true words! Loved it!
This is me in front of Hollywood High the night of the show. I don't know exactly what that orb is? Possibly a spirit, because it's not a watermark!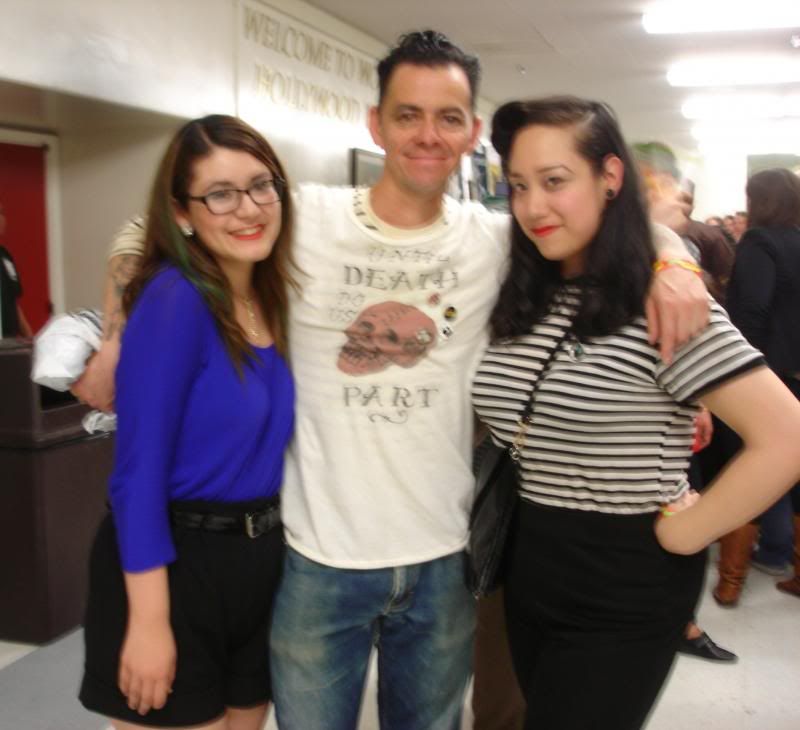 My two awesome friends who hung out with me the whole weekend Lidia of the amazing fashion website Fashion Focused (check it out for all your fashion needs!) and my great friend Pablo!
Together we were one crazy smiths moz loving trio!
I had orchestra tickets, so this is some of the crowd in the balcony including my friends and celebs and musicians Actor/ Comedian Russell Brand who introduced Morrissey, Tony Kanal bass player of No Doubt and Davey Havok singer of AFI.
There he is the man himself! Morrissey! Looking lovely in blue floral!
Such passion!
A stage shot
Taking a bow
You rip that shirt off Morrissey!
Oh Moz, divine and holy one...
One of the most touching moments I've ever experienced! I cried and sobbed (not uncontrollably of course) softly as you felt all this love and energy in the room. I don't think I've ever yet to cry at a show like that.
Morrissey I hope we have you around much longer to continue to spread your love and your music,
we need you and we love you!
Until Again!
(All Photos By. Victoria Inez Rivera)