A Day in Hollywood
February 7th
Well my whole reason for going out was for one very important purchase. One concert ticket to see my very very favorite German EBM and Synthpop band And One. I've loved them forever! Since I was 15 I would hear their music at backyard parties. They never come to the states, or hardly ever. Plus not many Americans know about them, but they are pretty popular in the goth/ industrial clubs and they have a ton of fans in Mexico and Los Angeles. I'd say Latinos love them! So when I heard that And One was playing in Los Angeles all because of a comment I read on their video on youtube, I totally lost it and made sure I had to get my tickets! I always thought I would have to travel somewhere to see them and now they a merely a 15 minute train ride away yay!!! I'll talk more about it when the date is closer and what And One is all about.
I'll leave you with a video of a recent And One performance. This is a taste of what it will be like. I'm sooo excited! I get to see And One and up close to singer Steve Naghavi!! I love that man!!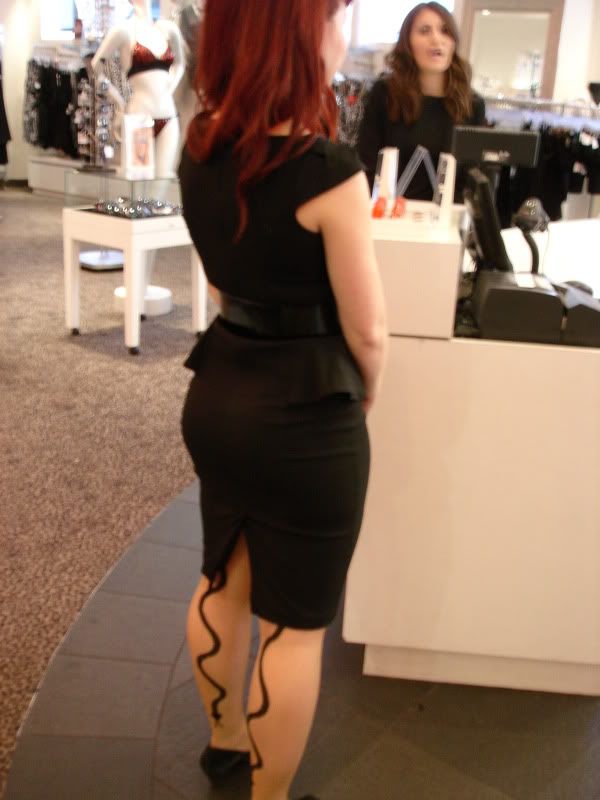 Spotted Style
Well stopping to look in the Fredrick's of Hollywood, official lingerie store, I spotted employee Emily. I was wondering "Are those tattoos or stockings?" So I asked and they are only some of the coolest backseam stockings ever!! I complimented her lovely outfit and those stockings! I definitely need to get me a pair. FYI those stockings aren't sold at Fredick's.
Well looking around I stopped at the New Bettie Page Boutique, it's very cute including the window display.
Walking down Hollywood Blvd. I spotted this lovely mannequin in a lingerie store window. Would it be strange if I said I love her look? I really love her outfit, she's pretty too! Just make the metal bustier a corset, get a bullet bra and make the gauntlets gloves! It would be much better. haha
Afterwords I went to the famous, historical Grauman's Chinese Theatre to go check out all the stars hand prints and signatures in the cement. Isn't is beautiful! You know I've never been inside..what a shame, haha.
2011 Vintage Fashion Expo
February 5th
Well the Vintage Expo finally arrived, and boy was it busy! There was soo much to see, but this year I didn't really get a chance to look. ReVamp's booth was really bustling. I eventually looked around right before the expo was over and bumped into friends, made new ones and admired people's wardrobe. I really wish I could have shot some photos of the awesome outfits I saw. I was soo thrilled to bump into my friend and the owner/ founder of the fabulous Besame cosmetics, Gabriela Hernandez, were we then talked about all the new things in store for Besame, how exciting! Not only that I was sooo thrilled to meet Director/ Writer Liz Goldwyn! In case you didn't know she's the director of the movie and author of the book "Pretty Things" which documents the history of Burlesque and the last great American Burlesque Queens. I first saw the film back when I was 14 or 15 years old home sick with a cold, she was the one who introduced me to Burlesque! I love her work, ad it was soo great to meet her considering that just a week prior I was going to go to her book signing but couldn't make it.
"Pretty Things"
Though I didn't do much shopping either, I made a small last minute purchase of jewelry. I promise the next expo I go to will definitely have more pictures and purchases.
Showing off my outfit and ready to work!
Me at ReVamp's booth
It's kinda blurry but that's okay. Myself and Liz Goldwyn. She was soo awesome! We talked about her very pretty Estee Lauder Compact and both applied our lipstick before the photo. She showed me all the vintage dresses she purchased, which were all very cute!
With my friend, founder of Besame Cosmetics, the very lovely Gabriela Hernandez. I'm soo loving her outfit, she always looks great!
My jewelry purchases, Vintage clip on earrings and Siamese Cat Brooch. Total cost, around $5.00 pretty good!
The Johnny Holiday Program with Special Guests Jan & Mickey Rooney
5 Year Anniversary of the Cicada Club
January 23rd
With my lovely, and fabulously dressed friends Ashley and Sari. We had a lot of chit chat to do, haha
With my awesome friend Joel in is cool 82nd Airborne WWII uniform! Him and the rest of the boys kept me laughing all night!
I
would have taken more photos with friends, the club, peoples wardrobe and with my brother Angel. But when your cracking jokes and chatting it up with friends you tend to forget.
The first hour and a couple of minutes of that evenings program.
A Taping of CONAN
January 19th
Woo! I was so excited! I finally had a chance to go see a live taping of my favorite late night talk show host Conan O' Brien, on his show CONAN! Conan O' Brien is my favorite late night talk show host, discovering him at age 14 spending sleepless summer nights watching late night talk shows. When the whole NBC/ Jay Leno/ Tonight Show dispute occurred in 2009, I was soo Team Coco that I went all the way to the rally at NBC studios and supported Conan in the rain which was storm status!! But I love the guy! I even had to chance to run in the street with him awesome!!
Video I shot of Conan O' Brien running with the crowd for the LA "I'm With Coco" Rally 2009
"Keep cool my Babies!!" -Conan in the video haha
Not only is Conan funny, he's quite a sexy guy!
So my uncle invited me and my brother to tag along and even though we pretty much waited the whole afternoon to see the show it was well worth it! We even ended up on TV, for about 3 seconds, haha but I saw us! I even got to see actor, Charlie Sheen who was literally standing next to me. Plus afterwords we had dinner at the historic Phillipe's home of the french Dip sandwich in Downtown LA!! Always a favorite place for our family, yum!
My outfit, wearing my shirt I got at the Coco rally and my hair in a Conan inspired style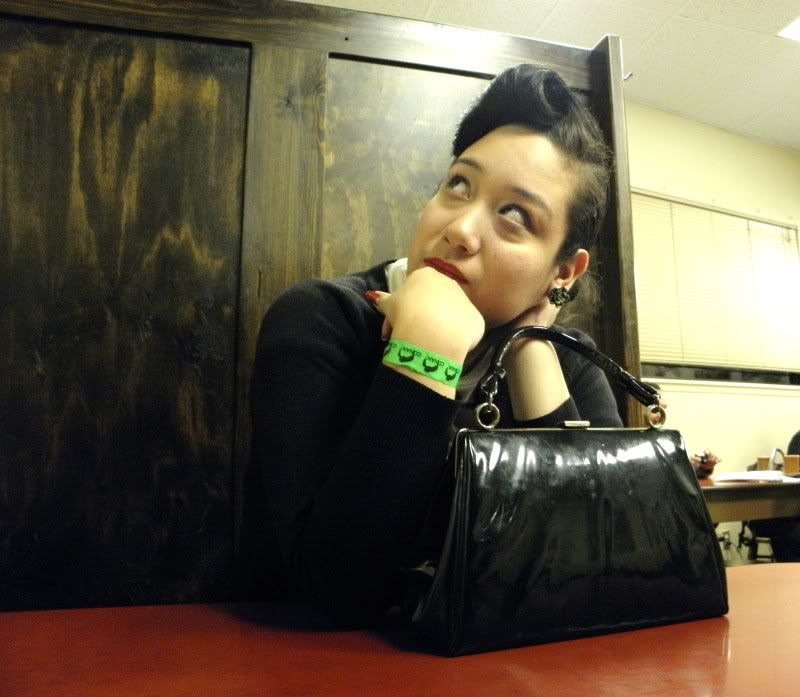 At Phillipe's waiting for our sandwiches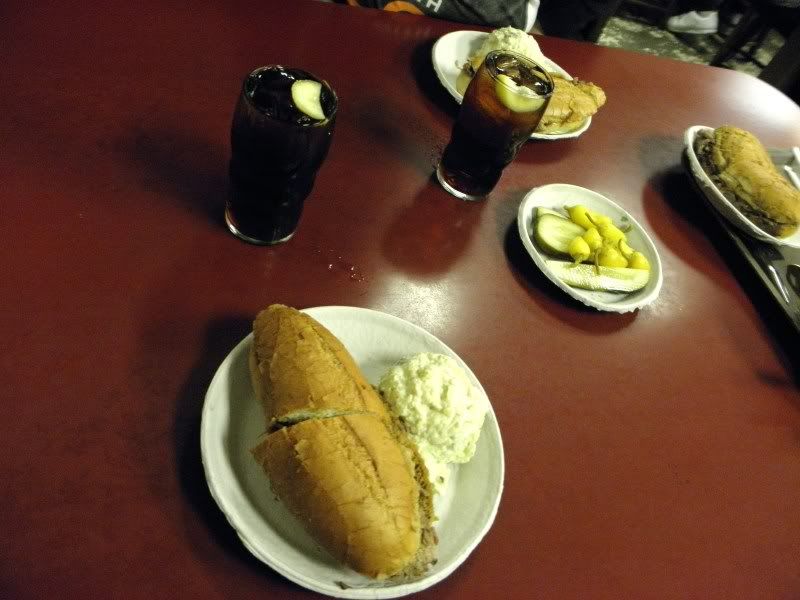 Mmmm, french dipped roast beef sandwiches, with a scoop of potato salad, sliced Kosher Pickles and Iced Tea!