Last February I notified all of you that I would be attending my first performance of the Dita Von Teese: Strip Strip Hooray show! Well I attended with my very good friend Johnny, but we ended up showing fashionably late and missed the whole show except for the grand finale and we were kind of a distance from the stage. However we partied till 4 am at a Goth Drag show at nearby gay bar and a friends hotel room party! Great Times! I have a few pics from that night below.
~~~~~~
This year my brother and I attended the show and we made sure not to miss it!
It was nothing but magical and amazing! Glitter, Glamour and Boobs everywhere!! haha
I finally got a chance to see Duke LaFayette and Dirty Martini! Both are show stoppers! And that Murray Hill, hilarious!! I had the chance to see Perle Noire before at Viva Las Vegas Burlesque Showcase
,
she's amazing!
This time we were right upfront, but I didn't take any photos though it was tempting.
2013 Strip Strip Hooray Show
This year I made sure to go with a Red theme since Valentine's Day was that week. I designed and made my floral fascinator myself using vintage netting, I wore my beaded gloves that are from Forever 21, my black velvet thrifted dress, black backseam stocking, printed patent leather clutch and of course my vintage fox fur stole! I always do high glamour for Dita!
I even tweeted about it and she favourited it! Aww so sweet!
A picture of my brother Angel and I at home after the show.
He wore my Dita Von Teese Bottle Cap pin I Made using an image of Dita I found online
and there's a closer pic of my floral fascinator.
2012 Strip Strip Hooray Show
The first time I wore my vintage fox fur stole that night (and the drag queens went crazy for it!) My favorite vintage 1940's hat (which happens to be liked by Dita she complemented me on it when we first met in 2009), vintage jewels the brooch I bought at Viva as a wardrobe fixer upper. I paired it with sheer black gloves and my black velvet vintage suit jacket and slinky dress with nude & black backseam stockings.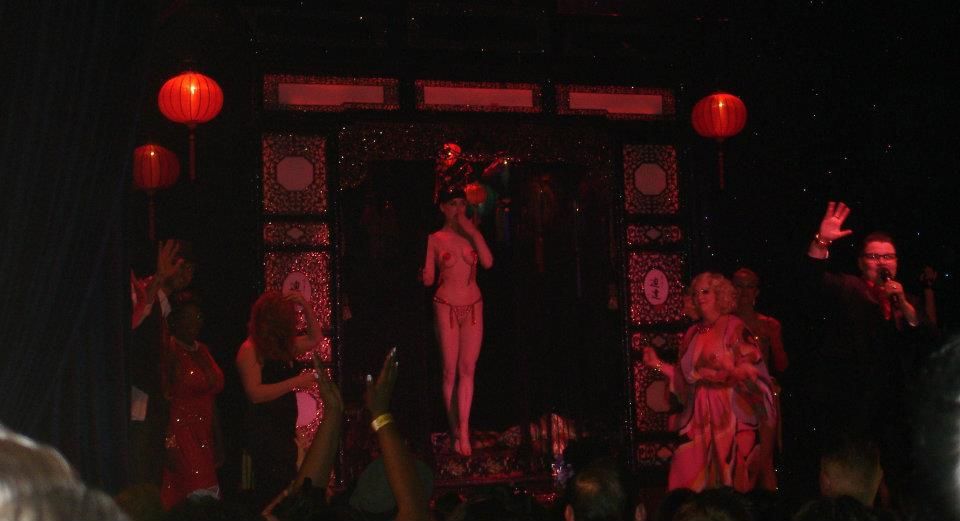 These are some photos I snapped at the show that year
( Since I arrived so late I had no idea we couldn't take pics but I didn't get in trouble)
Here's a pic from that goth drag show I went to afterwards! So much fun!




If anyone gets a chance be sure to check out this fun, amazing, hilarious, glamourous, magical and inspirational show! It makes me want to undress to nothing but glittery pasties!
Maybe one day.

Thank you Dita for putting on such a great show & being such an inspiration!

-Victoria





(all photos by. Victoria Inez Rivera)