Check out my latest thrift shopping & sales rack finds!
I recently went on a little trip by myself a week before the holidays to my usual thrift store, but for some reason it was closed that day. So I decided to stop by this Goodwill around the block, I usually don't like anything they have and most of the time the stuff is just junk. But I found some good stuff surprisingly!
Chinese Parasol $5
I've been needing a new one, and this one is lovely and it's practically unused!
Plastic Colorful Earrings $1
I saw them and they seemed very Carmen Miranda and you know if it's anything to do with Carmen I love it!!
1950's Vintage Black Saucer Hat $5
At first I saw it sitting on a shelf and thought nothing of it, but I then realized it was a black vintage saucer hat!! I had to have it! It was a total steal!
1950's Cha -Cha & Mambo Record . 50 cents
Boy I was happy to find this! I love older cha-cha and mambos and the fact that it has some of my favorite songs even better!
~~~
The day after christmas a ton of retailers were having huge sales. I went for what people called Mega Monday. I went with my brother only to one store H&M. He wanted these coats and I just tagged along and look what I ended up leaving with!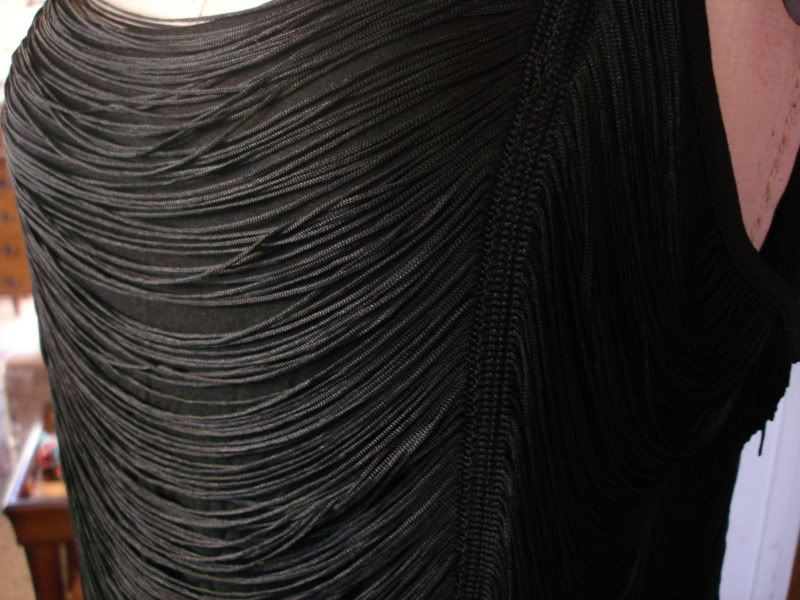 Black Fringe Cocktail Dress $10
Mini Straw Fedora and Red Flower Hat $5